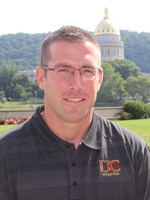 Andrew Wright brings 13 years of NCAA Division I and Division II coaching experience to the Golden Eagle Baseball program. A proven recruiter with a successful track record of development, Wright's energy and passion for his players has resulted in long history of success at the college level.
The vision for the Golden Eagle baseball program includes the following cornerstones: GRADUATE, COMPETE FOR CHAMPIONSHIPS, AND GIVE BACK TO THE COMMUNITY. The staff's overriding goal is to ensure that when each UC Baseball player finishes their career, they are a better person because they chose to wear the Golden Eagle baseball uniform. "My excitement for the opportunity to lead the UC Baseball program is hard to put into words. All of the nuts and bolts are here to make the Golden Eagle Baseball program one of the most comprehensive NCAA Division II Baseball experiences in the country, and my staff and I can't wait to get started," Wright said upon his hiring in the summer of 2015.
Wright comes to UC from MEC power Concord University, where he spent the last 5 years as the Mountain Lion head coach. During his tenure in Athens, the Mountain Lions averaged 31 wins per season, while setting consecutive school records for wins with 36 (2013) and 38 (2014). In his last 3 years, the Mountain Lions put together consecutive 30 win seasons, another CU first. In 2 of his 5 years, the Mountain Lions won WVIAC championships (2011, 2013) along with 2 NCAA Regional appearances.
Wright's ability to provide clarity to their approach offensively, defensively and on the mound, resulted in Concord bolstering itself as one of the region's most respected teams. CU's offense led the WVIAC in batting average, runs scored, hits and slugging percentage in 2011 and 2013, while leading the country in triples in 2011 and also leading the country in batting average and runs scored in 2013. Defensively, Concord's teams made a steady climb to the top of the conference from 2011 to 2015, culminating in a conference best fielding percentage in 2014. On the mound, Wright's pitching staffs saw an ERA of 6.97 almost cut in half by 2014 (3.53). During his time at Concord, the Mountain Lions produced 5 NCAA All-Americans and numerous All-Conference and All-Region picks.
In 12 years of coaching, Wright has coached over close to 50 players who have been drafted or signed professional contracts, including 4 who have reached the Major Leagues (Vince Belnome-Tampa Bay Rays, Cody Eppley- New York Yankees/Texas Rangers, David Carpenter-Braves, Astros, Yankees, Nationals, and Rob Wooten-Milwaukee Brewers.
In the classroom, his student-athletes saw a GPA jump of almost a half a letter grade from the time he took over in 2010 to 2014-2015 when the team posted a GPA over 3.0, which included over half the team with a 3.0 or better and 3 student athletes achieved 4.0 GPAs.
Perhaps more impressive, is his teams' commitment to community service. While at CU, the program received recognition for its commitment to giving back to the local community through its initiatives like the "1000 Hour Project" and the "Get to Give Program."
Wright's coaching stops include three years on staff at West Virginia University (2004-2007), two years as the head coach of the Wilmington Sharks in the Coastal Plain League (2006-2007), one season as the pitching coach at Georgetown Prep (2009), two years as the lead instructor at Bethesda-Chevy Chase Baseball Facility (2008-2009) and was also part of the Milwaukee Brewers scouting efforts in the Washington, DC area. While at CU, Wright also helped Tampa Bay Rays Rookie League Affiliate (Princeton Rays) as a batting practice pitcher in 2013 and 2014.
Wright played collegiately at Concord University from 2000-2002. During his time as a player the Mountain Lions established a school record for wins in 2000 (32) and won a WVIAC Conference Championship in 2001.
Prior to the start of the 2014 season, Wright was selected to serve on the NCAA Atlantic Regional Advisory Committee and also serves as the Chair of the Mountain East Coaches Committee.
Wright and his wife Stacy have 2 daughters, Alex (6) and Kennedy (3).